"Mary - The First Tabernacle"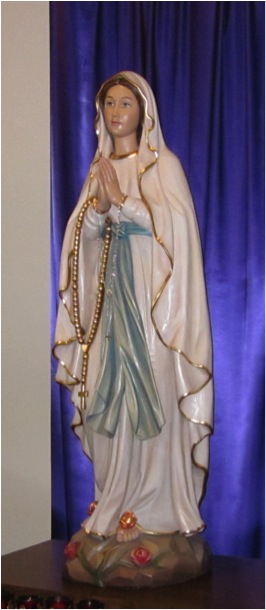 Having a retreat at Sacred Heart with the dedication of the Statue of the Blessed Mother was especially meaningful and an important event in the life of the Parish.
Reflections focused on:
Mary, Woman of the Eucharist,
Mary, the Guide to Jesus' Humanity,
Mother and Son say "Goodbye,"
Jesus Meets His Mother (from the Stations of the Cross), and
Through My Name.
Meditations were taken from Scripture, an encyclical letter and excerpts from the writings of Cora Evans. The retreat concluded with parishioners blessing one another. In closing, Father Gary Thomas, Pastor, blessed everyone with the relics of Saint Margaret Mary and Saint Claude la Colombiere.
We teach retreatants a daily prayer, which is a spiritual communion: "Lord, I invite you to relive your humanity – your resurrected life – through me today."