One day that will bring an experience of grace through prayer and reflection for the entire parish community

Our most popular parish retreat themes:
Praying the Mass - the greatest prayer the world has ever known
Saint Paul - the great lion of God
Mary - the first tabernacle in history
Every retreat, every talk leads us back to one core message, a message that challenges us. The mission of Jesus is our mission now.
The centerpiece of every parish retreat is Mass. Parishioner arrive for the Saturday event at about 8:30 a.m., the retreat begins promptly at 9:00 a.m. with the opening prayer, and a series of reflections. Mass, celebrated by the pastor or his associate, is celebrated at 11:00 a.m.
A light lunch, provided by the parish, is followed by an afternoon series of reflections.
The retreat concludes with a special blessing with the first-class relics of Saints (Saint Margaret Mary, Saint Clause la Colombiere, Saint Francis Xavier, and Saint Mother Cabrini) at 3:30 p.m.
Each parishioner receives a free 24-page booklet of reflections.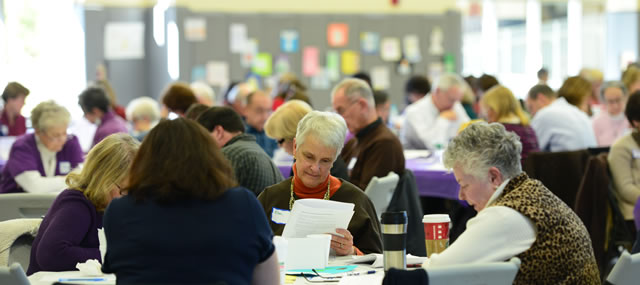 Sample Feedback from Parishioners
"The most meaning part of the day was being introduced to Christ's Mystical Humanity – the Divine Indwelling. I believe that I carry Christ within me and I am awed everyday to see God in everyone I meet."

Saint Rose of Lima
Newtown, Connecticut
"Christ lives in me! This phrase alone made the whole retreat worth attending. It woke me up and opened my mind to the realization that Christ does live in me and I have to make myself worthy of His presence."

Our Lady of Lourdes Parish
Northridge, California
"Inspired! A wonderful, enriching retreat! It was a spiritual and moving experience. To feel God's presence with one another is a testimony of walking in His path. My personal spiritual life has been greatly embraced and brought to a deeper level with God and the Church."

Saint Vincent de Paul Parish
Salt Lake City, Utah
"I think this form of prayer is wonderful. To invite Our Lord to live His resurrected humanity through me is very humbling."

Carmelite Sister
San Diego, California
"It reminds me that I am a living tabernacle of Christ"

Mary Star of the Sea
La Jolla, California
"To spend a day centering on and about Jesus can only bring one closer to Him and understanding ourselves. This from of prayer is excellent and a way of opening one's mind to thinking and praying to Jesus in a new way."

Saint Elizabeth Ann Seaton
Carlsbad, California
"This way of prayer reminds me of all the wonderful work that God can do through such a willing human being as me."

Saint John Eudes
Chatsworth, California
"I have always loved going to Mass, but sitting in the Gathering Hall and reflecting on the Mass as a prayer is very special to me. I will look at Mass differently and I now understand that my part is much bigger than I thought."

Saint Rose of Lima
Newtown, Connecticut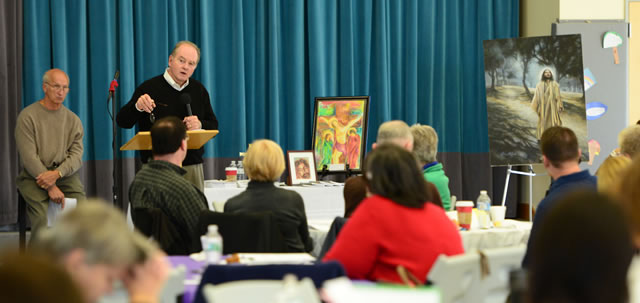 Spend the Whole Day with Jesus and His Mother
Over the years we have received extraordinarily positive feedback from thousands of parishioners expressing appreciation for the opportunity to join with other members of their community and share their Catholic faith. It is a highly motivating learning experience.
We Help Promote Your Retreat
Our organization provides full-color posters and preprinted Sunday Bulletin inserts to help get the word out.
Form a Core Team
A team comprised of six or more parish volunteers is formed prior to your parish retreat. The team meets in person as needed, and much of the follow-up communications is done via email.
Leadership Team Plan
We provide a step-by-step guide for planning a highly successful parish event. This document assist in assigning roles and responsibilities for the various activities leading up to the retreat as well as requirements on the day of the event.
Bilingual Retreats Available
A number of our retreat themes are available as bilingual (Spanish and English) events. Please contact us to discuss the process.  
Fee Structure
Stipend – We accept a voluntary stipend from the parish. This is especially helpful when travel is involved.
Individual Donation – On the day of the event we invite parishioners to make a good will offering, also a voluntary donation.
The checks are made out to our organization, Mystical Humanity of Christ, Inc., a 501(c)3 non-profit Catholic service organization.
No other donations are taken up by the parish on the day of the event.
There is no charge for the retreat booklets.
There is no charge for the color posters and Sunday Bulletin inserts.
Call for Registration
The promotional material gives parishioners a phone number to call for their Reservation. This is helpful for room set up, lunch planning, and printing booklets.
Optional Registration Fee
A few parishes have requested a $10 registration fee to cover the cost of lunch. This is optional.
No Charge for Retreat Booklets
We provide each participant with an 8.5 x 11 size, 20 to 24-page customized booklet of reflections. The booklet serves as a guide for the day, a place to record their thoughts, and is a take-home piece. There is no charge for the booklet.
Next Step
The date drives everything. Contact us to discuss any aspect of the retreat. Once your date is confirmed the planning begins.
Our Experience
We've conducted retreat at parishes in Southern and Northern California, Hawaii, Utah, New York, and Connecticut. To date we've received inquiries nationwide. We go where we are invited.